Oh finallyyyyy, after four years of surviving on prepaid cards. I need help! Recommendations! Anyone? Singtel student plan? What phone! I don't want a touch screen phone. I want one that's nice to sms with so the buttons shouldn't be too close together or hard to press.
-
Mum: How can an apple represent an apple? It's already an apple, it doesn't have to represent one!
Church with Maddie and Janice was as great as it always is! And I finally bought Light Of The City (City Harvest's first CD). Yay!
We saw this really cute block of flats and Janice said "If you live on the top floor you can say you live Somewhere Over The Rainbow!"
After a visit to Queenie's mum's salon and lunch, Maddie went home while Janice and I went to take neoprints at Bugis!
And then I went for a play called One Small Step at The Black Box at the National Library with my dad and brother. It really is like a black box. Really cool.
Something like that (this is the one at Republic Poly).
I love it when the stage is on the floor (like how it is in the PAT in Crescent) because the audience is so close to the stage and there's this special connection between the performer and the audience. When the stage is elevated, it puts an unfriendly barrier between them.
When the lights go off it's really DARK. I always find it fascinating when I open my eyes but see nothing at all. I feel my eyes widening, my pupils dilating like crazy. It's awesome.
Anyway, One Small Step is a play about the Russians and Americans fighting to get their first man on the moon. Very interesting, quite funny and VERY entertaining, but I couldn't stand the little kids in the front giggling non-stop... but I guess it helped lighten the atmosphere and make the performers feel more at ease. There were only two performers but they acted as a lot of different people, which was great. They were doing Russian and American accents so I knew they had to be British. It was amusing to hear them speak with a lovely British accent during the Q&A session after hearing them speak in funny Russian and American accents for an hour.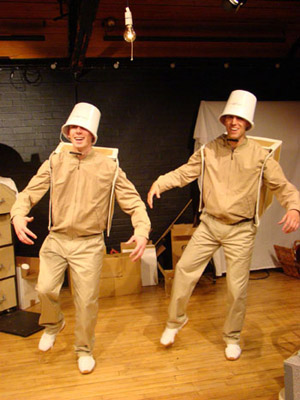 I love how they used stuff like cardboard boxes and buckets and stuff like that, very creative and it really isn't as lame as it sounds. It's really cool. I mean, each ticket was $35, it's got to be good.
Dinner was at a mega cool place called Ebiboshi at Iluma. THEY USE THIS REALLY COOL DUNNO WHAT PEN THING TO ORDER FOOD.
LIKE WAAAAHHHH. And the food portions are great. I was very full after my mini eel (Can't remember its name) don. They have "mini" bowls that are just right for me! The full portion would've been too much.
School tomorrow! Can't believe it's only been two days. I'm already tired out.